Easy Tips To Help You Go About Your Car Transmission Repair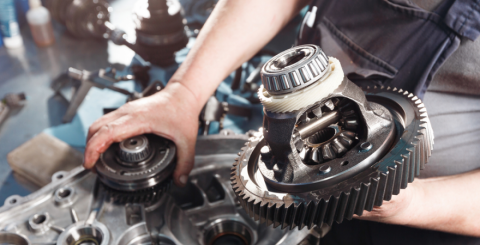 What is Car Transmission?
A transmission is a mechanism within the system of power transmission in a vehicle. This transmission controls the power application and it is normally termed as the gearbox with gear trains and gears to provide torque conversion and speed from its rotation power. Transmission in cars may have an automatic or manual gear shifter. This system helps the car to shift gear automatically or manually with a clutch so that your car's engine can move in various speeds. This being an essential system of cars it needs proper care, servicing and repair to maintain its efficiency.
Reasons and signals that your car needs a Transmission service:
There are several things that involve car transmission repair the general and most important thing to do is have it serviced regularly as it is an important part of your vehicle.
Here are a few signals that your car transmission needs repair,
 The first point to consider while driving your car is if the fluid within the engine emits a certain burned smell.
The second point is while you are trying to shift your car's clutch is it getting stuck and emitting a grinding noise.
When your vehicle is neutral there might be some unnatural clunking, grinding or Humming sounds.
The smooth transition which you feel while changing gear might have been replaced with a grinding and thumping sensation.
The last thing which you will notice while driving is that your car's transmission is getting displaced and slip amidst gears or return to neutral.
The things you need to know about car transmission repair
For you are going for a Transmission service you need to be aware of the various car transmission repairs that your car needs. Or you can buy a transmission code reader to diagnose before going to the car service to save money. The most common transmission services are mentioned below:
Transmission Flush
A flush transmission is actually a compendious transmission repair that extracts out the grim and sludge that has been accumulating within your transmission for years. In this process, the mechanic first removes the older oil or grim. Then comes the cleaning process where cleaning solutions and new oils are flushed throughout the system to remove damaging particles, and later the transmission oil is replaced with new oil.
Transmission Fluid Replacement
While going for transmission service or repair you will have two options, in the first one, there is a full fluid replacement which must be done based on the conjecture and according to the exhortation of your car manufacturer.  Secondly the transmission filter and fluid change which should also be done according to the conjecture and Recommendation of your Car's manufacturer. There is a bit of popular advice among mechanics which they pass on to their clients that if you keep up with this procedure then you can avoid expensive transmission service, this service is generally due when your car processes 30000 miles or every 2 years.
Replacement or Rebuild
If your transmission has stopped working for failed then you need to either get a replacement or rebuilt it all together. If this happens a suitable repair center would be either a reputed one or the service center of the car's company.
 Repairing generally depends on the make and model of your car, manual transmission, and domestic models cost way lesser than automatic transmission and imported model repair. Some of the other things which generally affects your car transmission repair are that if your vehicle is old or new, the extent of damage in the transmission, and the automobile repair center. It is necessary to find a service center which is reputed and has skilled employees. You must always follow the speculations and recommendations of your vehicle's manufacturer as they know way more about your vehicle then you do.