Does Customer Support Still Has Its Relevance In This Self- Help World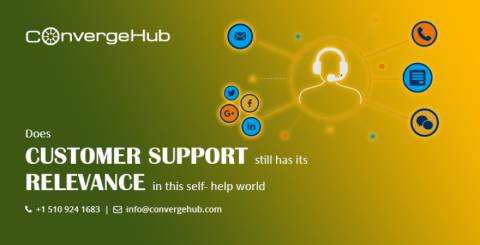 We all know that in modern times customer service is passing through a silent evolution due to the rise of self-help strategies in all businesses.
We say this because according to research and surveys by ZenDesk it has been found that:
"67% of respondents prefer self-service over speaking to a company representative."
And
"91% of survey respondents say they would use an online knowledgebase if it were available and tailored to their needs."
Therefore looking into these stats it can be easily said that nowadays most customers prefer self-service options, which can range from online FAQs to interactive phone menus and Chatbots, to handle a variety of simple needs.
Now, self-help can be advantageous for support teams by scaling down the overall volume of queries and issues that customer support reps face every day even though the tickets that get deflected tends to be the easiest and most straightforward in form which in other words implies that the support cases that agents are facing on a day-to-day basis are now constantly becoming more challenging and complex every day.
Additionally, as we have already found that most customers nowadays attempt to resolve their pain-points and issues on their own even before they contact customer support, so when customers ultimately do reach out to support reps, it can be well-assumed that they have already invested enough energy and time trying to solve their issues without finding success in the act.
That means there is likely to be a lot of frustration expressed by possibly every customer who has to talk to an agent nowadays.
Hence, given all these situations and present developments in the support arena, it is more important than ever that all businesses big or small need to prioritize on their support teams since if agents find their departments as an undesirable place of work, the quality of work that they deliver on behalf of their companies will inescapably reflect that perspective.
Moreover, with support professionals who might feel that they are stuck in rut (meaning that they are gaining no skills) are even prone to burnout quickly, which implies that the higher is the turnout rate, (the more frequent new employees need to be hired), will also increase the on-boarding cost for such companies.
Therefore here are a few ideas as to how in this era of self-help, how can businesses boost the experience of their support teams, and in turn increase the overall experience of their customers, has been listed below:
Focus on the Human Element
Even though it is very easy to lose sight of the human aspect of customer support, since now a given ticket might be just a long list of boxes to be ticked or checked off in order to resolve an issue, nevertheless, it is only the right support agent who can elevate a simple satisfactory experience of a customer to a truly outstanding one.
We say this because as one of the leading vendors of easy to use CRM software we have observed that when consumers are really upset and frustrated, it is only the support professionals who can transform their 'painful woes to delightful wows', as the complete interaction with the already aggravated customer can change with just one empathetic statement, but for that agents can only do it when they have the access to the right business growth technology and tools.
Share the Knowledge
Even all the best intentions and advice in this world would do no good if the support reps do not have the skill or the knowledge that is required to defuse tense customer-facing situations and thereafter resolve those customer issues.
Now knowledge and skills are attributes that begin with extensive training on the product line that the company offers to its customers since it is equally true that nothing sets off a customer quite like talking to someone who knows even less about their products and services than they do.
Additionally, support agents also need to understand the meaning of customer experience from the beginning to the very end, which implies agents must personally experience each of the steps that the customers take before contacting support, which might include going through FAQ pages, automated voice menus, and other self-service options provided by the company to the customers.
Moreover, managers and entrepreneurs must offer their support teams with resources for problems that they cannot handle on their own by providing a list of experts within the company who already have a profound understanding of particular technologies, customer segments, industries and more so that support agents are well-aware as to where they must turn to resolve tricky situations in times of need.
Now since customer support is all about communication and businesses cannot just expect all agents to possess all the skills to remain successful, companies must use role-playing, scripting, shadowing and other techniques to remain ensured that the agents are prepared as much as possible to face and resolve their customer issues.
Keep Up the Training
Should the managers turn the support professionals lose once they complete their initial training and never work with them again for increasing their technical and support skills?
Of course not!
We say this because organizations and technologies are constantly evolving. For example, CRM like Salesforce and other Salesforce Alternative CRM software solution platforms are releasing new features along with entirely new products and services.
Therefore, agents will naturally need training for all these updates and so businesses must hold regular boot camps (or short training sessions) once or twice every month that focus on enhancing these skills.  
Training sessions not only help to keep experienced support professionals at the top of their game, but it even provides a valuable boost for the recent hires, and help managers to record the sessions and have them readily available for review on-demand.
Set the Right Goals
For anyone who has experience in support-based activities must have heard about the key metric known as 'call time'. This is because the shorter the calls the more valuable are the agents for the number of customers that they have served. Right?
No, it is not!
In reality, spending more time with a customer might lead to developing a stronger long-term relationship that can bring in more revenue down the road.
This is the reason managers should always work in tandem with agents in the front-line to understand which metrics in the easy to use CRM will result in providing better customer experience for the consumers of their product line.
Make It Personal
Much like your support agents provides the consumers of your offerings with a human touch, managers in the support departments should also take their time to make support reps feel valued as an individual serving their organization.
Hence, as everyone in a company works differently, allow your support agents to personalize their workspace which will help them to boost their comfort level and productivity.
Additionally, you can even talk to your agents one-on-one to find which incentives mean to them the most.
Go out of the way to celebrate your sales rep's success (both personally and professionally) to make them feel a personal connection with your company so that they may remain even more committed to their work.
Just Embrace the Era of Self-Help
Just like companies embrace new business growth technology solutions like easy to use CRM platforms and more businesses in the modern times must also include advances in self-help options to remain in the best position to succeed in this era since customer support still remains a vital part that delivers tangible results which benefits both the customers and the company.