The Benefits of Vacuum Excavation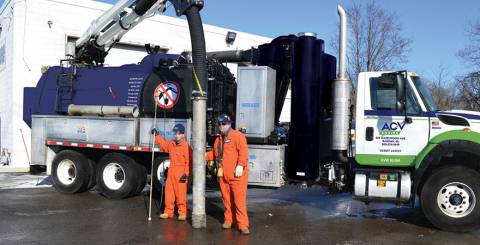 https://www.acvenviro.com/services/vacuum-excavation/
Vacuum Excavation Explained
Vacuum excavation is the process of excavating earth or large debris using a mechanical suction excavator, which is typically mounted to a specialised truck that houses a large inlet pipe and waste storage unit. Vacuum excavation trucks utilise leading-edge absorption equipment and are chiefly used for the purpose of safely exposing subterranean utilities, such as pipes and cables in a non-destructive manner.
There are two main types of vacuum excavation, air and hydro excavation. Air excavation relies on powerful air suction, while hydro excavation consists of high energy water jets. With its safe, effective and efficient means for waste and debris removal, vacuum excavation has become the industry standard for large and smaller scale excavating.
What are the uses of Vacuum Excavation?
Although primarily used to reveal belowground utilities, vacuum excavation has a wide variety of other uses, including but not limited to:
Culvert and drain cleaning
Waste removal
Potholing
Installation of new underground facilities alongside existing ones
Non-destructive digging beneath existing utilities
The creation of trenches across complicated underground service structures
Sign and pole installation (including utility poles)
What are the benefits of Vacuum Excavation?
1) It's Low Risk
One of the biggest advantages of vacuum excavation is that it's non-destructive digging (NDD). Whether using air of hydro based excavation, the procedure guarantees that no damage is done to existing, underlying infrastructure. During the collection material process, the vacuum excavation company positions the vacuum truck near to the area that is being dug up and the suction device is positioned underground. No parts of the device ever come in direct contact with utilities or other low lying equipment. This ensures maximum protection against accidental damage.
2) State-of-the-art Equipment
Vacuum based excavation is far more sophisticated than various other antiquated digging techniques. It provides superior excavation speeds, but most importantly, is extremely low risk, which is vitally important when working with delicate infrastructure where unforeseen damage could have catastrophic consequences or at the very least, represent an enormous inconvenience in cases where utilities are accidentally severed. Beyond this, it also guarantees a high level of precision. Vacuum excavation is the only form of excavation that ensures the exact depth of a utility can be determined with one hundred percent accuracy.
3) Safer Working Conditions
With old fashioned digging procedures, there is a complete absence of accuracy, with workers required to work across a greater area while removing the dirt. With conventional digging methods, there's a much greater risk of damaging underground equipment, which in addition to potentially causing widespread outages can put your life in danger.
However, with air and hydro vacuum excavation, the process is much more controlled. The suction devices not only excavate the material, but retains it within the storage unit, as well, ensuring a cleaner workspace. It has an efficient system that collects using the suction hose and immediately deposits it.
4) Economical
The speed at which vacuum excavation is able to extract material makes it a more cost-efficient solution. The high degree of precision also greatly reduces the risk of damage to nearby underground utilities and equipment, thereby lessening the likelihood of incurring unanticipated costs. In addition to this, vacuum excavation is able to effectively penetrate all types of soil, including thick clay, mud, as well as harder terrain.
Vacuum excavation can also be used to great effect for landscaping purposes. With its ability to perform high precision digging, it ensures that nearby soil remains intact. This provides your landscape area with a stronger bedrock. This translates to a reduced number of repair work, saving you on expenses for additional soil and labour costs.