Beach Weddings - Ideas For Beach Wedding Cakes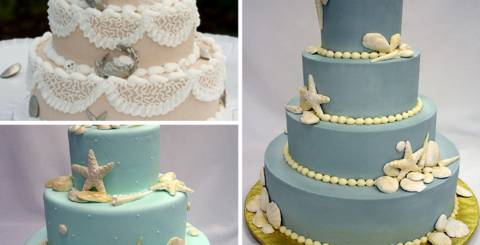 https://www.getweddingplanningnow.com/wp-content/uploads/2017/12/beach-scene-wedding-cake-idea-800x445.jpg
Beach weddings can be romantic and unforgettable. Its beachy scenery adds a splash of relaxation naturally on an usually anxious day. So, if it is that you have always dreamt of having a beach wedding; go for it! While all weddings do take a lot of effort to plan, beach weddings require a little something extra to ensure everything goes as smooth as can be and of course correlates with the wedding theme. Hence, you will need to plan creatively. This includes your beach wedding centerpieces, wedding dresses, wedding bands and decorations and of course your beach wedding cake.
A cake is usually the focal point of any wedding ceremony. As such; don't be too hasty in picking a wedding cake. In fact, there are a few things to consider when ordering beach wedding cakes. Shapes, sizes, structure, cake stand, cake toppers, and cake holders or racks are those details that you should look at for your beach wedding cake. Beach wedding cakes provide couples the opportunity to get very creative with their wedding cakes. It is up to you as a couple to decide on what you will use to make your beach wedding cake unique and special.
Pool ideas from the wedding blogs, forums, magazines, and friends. All these ideas will help you to make a wedding cake that is unique to your wedding. Then, communicate these ideas to your wedding cake supplier. At this time, they can provide you even more suggestions or even alternatives.
Apart from the flavors, the décor of beach wedding cakes are definitely, what makes them stand out compared to other wedding cakes.
Beach Wedding Cakes Patterns and Designs
 
Seashells on Beach Wedding Cakes
Seashells on beach wedding cakes are one of the most popular designs of wedding cakes of this theme. They are also used for cake toppers as well. In this case, colorful seashells are being included in the cake. The cake has been topped with beach shape icing, marzipan or mold cream chocolates and candies. The base color of these beach wedding cakes is normally white or soft blue, which represents the natural color of sea and sand. Moreover, these seashells are also surrounded by versatile and elegant flowers for enhancing the feel and look of the cake. Consequently seashells are available as a key part of the design or as a subtle accent.
Floral Décor on Beach Wedding Cakes
If you prefer your beach wedding cake surrounded by a beautiful flora, then make sure you get it nicely decorated with tropical flowers like orchids and hibiscus. Principally tropical flowers are the best floral selection for complimenting a beach themed wedding. Perhaps flora used to be one of the most romantic and best elements of a beach wedding. In this case, you can get bundles of fresh tropical flowers for the toppers of the cake or you can decorate your  beach wedding cakes with cream tropical icing. Ideally, both should look very good. You should always bear in mind that no matter if, you are using fresh flowers or developing flowers from icing or other edibles, a flower is always the perfect element that can adorn your beach theme wedding cakes in bouquets, cascades or elegant edgings.
 
Other Beach Wedding Cake Ideas
 
Another idea for a beach wedding cake would be a sand castle wedding cake. This could be a great choice if made from a white chocolate with a vanilla base. Perfect for playful couples! For example; if you are using a natural colored sand castle cake, you can use brown sugar for the "sand" and place colorful complimenting seashells at the base of the cake. For cake toppers, you could go for a surfing skateboard, seagulls or even boats.
Or better yet, if you are going for a more casual type of beach wedding, then cupcake wedding cakes matching your theme may be worth it as they are more easy to carry and serve.
As mentioned before, you can be extremely creative with your beach wedding cake. Feel free to consider other designs, wedding cake toppers, and flavors for your wedding cake.