App Development Strategies Applied in Fitness Apps in Core Demand?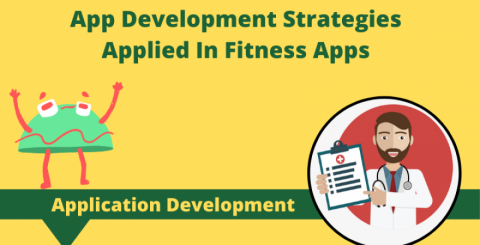 Fitness apps of various kinds such as diet and nutrition apps, fitness tracking apps, and exercise apps have always been in demand since their inception. But the coronavirus pandemic and the resultant lockdown spurred more and more people to focus on their physical and mental health. As a result, there has been a huge spurt in the user bases of various fitness apps. The competition to grab the market of fitness apps is intense with different fitness apps jostling for space. Even though the core functions of all fitness apps are the same, there are many apps that stand out due to their larger user bases, high ratings by users, and financial prowess. The top-rated fitness apps which come to mind immediately include Fitbit, Nike, Kayla, Sworkit, Bloligates, and many more. So, what's the secret behind the success of such apps? The secret is nothing but a set of strategies that attract users and retain them successfully. 
Some of the strategies employed by successful fitness apps have been discussed here.
Community Connect Using Social Sharing
Creating an online community with the app is a major success strategy for fitness apps. Integrating social sharing in the app enables users to share their activities, achievements and difficulties with other users globally. Users are also able to exchange tips with each other. Community sharing motivates people to adhere to workouts and diet plans regularly and increases the efficiency of their fitness regimens in the long run. Eventually, connecting with a larger community acts as a catalyst for users to work on their fitness more thoroughly with a focused mindset. The active user community of the app also helps immensely in expanding its user base.
Excellent User Experience
User experience is the mainstay of any app and it is true for fitness apps as well. A customizable user interface allows users to have a personalized experience. Planning customized exercise plans or diet plans, setting personalized fitness goals, statistics, keeping track of progress and performance over periods of time, etc. are some main features integrated for a personalised experience. Personalized user experience makes the app a good substitute for a fitness trainer which, in turn, encourages the user to access the app regularly. Complete security of the user's personal data such as name, gender, age, weight, and height is also an important aspect of high-level user experience. Excellent user experience results in good reviews and even word-of-mouth publicity which increases the user base.
Recording, Push Notifications, and Reminders
The app becomes more involved with the fitness regimen of the user by integrating push notifications and reminders. In the busy lifestyle of modern times, there are instances when a person misses a workout session. The push notification or reminder pops up a message on the person's smartphone or smart fitness band as soon as it detects that the person has not started his/her workout session. The notification by the app helps the user in remembering the exercise sessions. 
Another technological tool used by successful apps is recording. The app detects whether the user is running, cycling, jogging or engaged in some other type of workout and provides the option of recording the workout. The recordings are saved which helps the user in comparing all the previous workouts and get the motivation to push the envelope and better the previous performances.
Competition
Encouraging competition is an important feature of many successful fitness apps. Such fitness apps rate the overall fitness levels of their users and award them ranks and points. The users are also able to compare their points and rankings with other users in the community which creates a healthy competition to outperform each other. Eventually, each user gets motivated to put in more effort and focus even more on the fitness regimen. Many fitness apps also incorporate gaming feature in which the user needs to complete many types of physical tasks to earn points or rewards. The option of sharing the workout points and ranks on social media platforms enable users to grab more eyeballs.
Multi-device Synchronisation
Multiple device synchronization enables the user to sync the app with any other device. This is especially useful for people who prefer wearables such as fitness bands or smartwatches to monitor their workouts. This feature is preferred widely by fitness enthusiasts.
Current website-enabled applications are required to safeguard that we are able to surf the web, check the app information from any place, auto-fill the forms and make payments flawlessly as well as safeguard that all of the sensitive data are safe. When mobile application development has to be thought in accordance with the enterprises, the development of applications has presented numerous new ways of doing profitable business, refining incomes, and intensifying entering to new markets. Many firms present are deploying these apps and similarly many technologies are also being used and the parts where such applications have been organized offer important advantages.
Bottom Line
The emerging entrance of cell phones and tablets overall socioeconomics has brought about a high selection of wellness applications. Some applications offer altered administrations dependent on body physiology and prerequisite. Be that as it may, clients may think that it's hard to support exercise or diet schedules, over the long haul, bringing about loss of an enormous shopper base. The main factors that are pouring the market development comprise the occurrence of huge multiple industries and increasing demand for incessant health valuation.