9 Tips for Choosing the Right Bridesmaid Dresses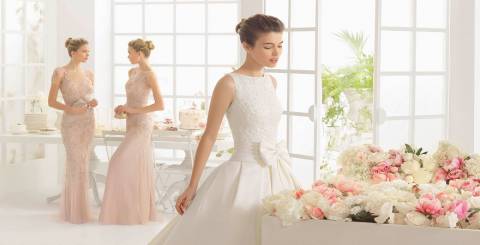 OK, so you've found your wedding dress, but now it's time to start shopping around for yet another dress. That's for your bridesmaids. Regardless of the size of your bridal party or the style of your wedding, finding bridesmaids dresses doesn't have to be a daunting task. It can be simple with these tips to help you find the perfect dress your bridal party won't mind wearing.
Start Browsing
Consider taking your research online. Sites such as Pinterest are great to get some ideas going. Consider looking in magazines, checking out local salons and various online sites. This can help you narrow down on the style you want. Consider tearing out magazine pages and bookmarking your favourite sites to help narrow your search down.
Consider Cost
Because your bridesmaids are responsible for purchasing their dress, keep the cost in mind. There are literally thousands of designs and styles available to choose from no matter what the budget is. Be considerate of what your bridal party can afford. If you are worried about your bridal party affording their dress, consider making some compromises on the style of dress you have chosen. You can also opt to pick out a color and allow them to choose the style of dress they are interested in. There are also rental sites that will allow your ladies to rent a dress for the event and then return it.
Stay on Schedule
When searching for a bridesmaid dress, consider sticking to a time schedule. This is true if your bridal party are out of town and you have chosen a dress that requires online purchase. You need to make sure there is enough time for them to order and receive their dress and make necessary returns and replacements if needed. Some places can take up to 6 months to receive a dress and then if alterations are needed, another 6 weeks for that.
Consider the Style and Fit
Consider the style of the dress and the body style of your party. Some women are bigger up top so a low-cut dress may not be ideal for everyone. If you have larger women in your party, consider a dress that isn't as form-fitting. Keep this in mind to help ensure your party has a style and fit that will compliment their body style.
Dress Shades
Picking the perfect color doesn't have to be as hard as it might seem. Consider the color scheme of your wedding and play off one of the colors. Consider a color that isn't the main color but an accent color. For example, if your colors are ivory, burgundy and sunflowers, consider choosing sunflower or burgundy. Consider the season you are having your wedding as well. Fall weddings are great for darker colors such as emerald or marsala. Lighter shades are ideal for spring and summer weddings such as pastels or mint and blush pink. Some brides will even go as far as to pick prints for their bridesmaid dresses. Patterns work well with a smaller bridal party.
Choose Complementary Colors
You want to consider the color you choose to compliment your parties' skin tone. For lighter skin tones colors such as sapphire, emerald and amethyst suit just fine. Darker skin adapts well with brighter and more vibrant colors. Blush and greige seem to go well across the board. You can have your maid of honour in a completely different dress than the rest of your bridal party to have her stand out from the rest.
Choose Your Dress First
This is a mistake some brides often make. They get so caught up in everything they leave their wedding dress for last. If your gown is more formal, make sure your bridesmaid dresses are more conservative or classic. You don't want the attention to be on anyone else besides you.
Wedding planning can be fun and exciting. Have fun doing bridesmaid shopping with your party and get them involved for opinions. At the end of the day though, it's your decision.