7 Smart Pool Renovation Ideas That Won't Break the Bank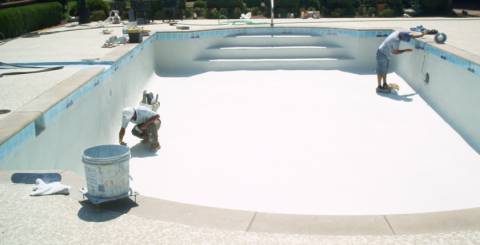 There may come a time when your outdoor pool might need a facelift and some upgrading. Over time, harsh weather elements can damage your pool and decrease the value. It becomes less aesthetically appealing which can decrease the value of your home in the case you decide to sell it. The good thing though is that there are several things you can do to give the pool area a much-needed face lift without going broke in the process. Some of these can be done on your own or you can opt to hire professionals to help get the job done the right way. Here are the some swimming pool renovation ideas:
Light Things Up
There are a wide variety of lights that can help lighten up the pool area. LED lights for instance can be found in several colors to help give some added appeal. There are different styles and colors to fit your needs. You can place these lights in the water, or you can place them around the pool and the deck area. This can give the area an updated and more elegant look. A positive side of LED lighting is that they are energy efficient. These aren't expensive to install ether which saves you time as well.
Enhancing the Design
Another great way to give your pool the facelift it needs is with resurfacing the pool. While it can be a little less easy on the wallet, it's a rather smart investment as it adds value to the pool and your home as well. It replaces all areas that have been worn out over the years. There are several different aggregate finishes to choose from. You can choose different colors and materials including stones or shells for instance.
Utilize Technology
You can even find automated systems that are great for convenience and to give a touch of modern-day style to your pool. They help with maintaining your pool easier which cuts out the need for a professional pool builders. Automatic pool covers, all -in-one cleaners and even robot cleaners are some examples.
Waterline Tile
This gives a more contemporary look to your pool. This renovation can be combined with a new deck or resurfacing to give your pool the updated look it needs. New tile to the pool keeps your pool looking great even when the water level becomes low.
Water Features
For some people this isn't all that necessary, but for others, features such as waterfalls are a great upgrade. These are great to add into your current pool and don't require much additional income. Installation can be affordable as well meaning you don't have to break the bank. Waterfalls and other water features can add in relaxing sounds as well for those evening dips in the pool.
Solar Pool Heaters
This is a great investment to add to your pool. It'll end up paying for itself over time. While most solar panel heaters won't keep your pool comfortable if it's used with a traditional pool heater it can keep it at a comfortable temperature. This investment will pay off as it can cost a lot to heat a pool annually.
Automatic Pool Cleaners
Rather than hiring professional pool cleaners, you can keep your pool looking its best by getting automatic pool cleaners. The cost can weigh itself out with hiring professionals as you have to continue to pay for professionals. Automatic cleaners are a one-time investment.
Pool Seats
Imagine what it would be like to have a glass of wine or juice while sitting in a seat in the pool. You can add in pool seating to your pool to give it more value and functionality. They aren't your typical seats that you just throw in the pool. They are installed into the actual pool and are made of a unique material making them safe for the elements.
These projects don't have to break the bank and can help add value to your home and pools aesthetic appeal.