A Bus Ride From New York To Boston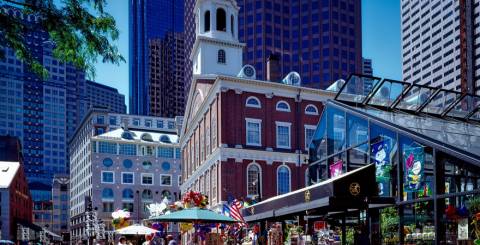 Google, copyright-free image under Creative Commons License
Why take the bus?
There are many advantages to taking the bus: avoiding long security checks at airports, saving money on airfare, and being able to use your phone for the duration of the trip. The truth is, flying, especially traveling from New York to Boston, it may not be the most efficient mode of transportation because buses from Manhattan to downtown Boston take an average of 4h 20m, which is only a couple hours longer than if you were to fly, if you take into account the time it takes to get to the airport and having to wait to board. Furthermore, by taking the bus you will be able to experience some of the most scenic views in New England on bus routes that wind through Upstate New York, Connecticut and Rhode Island.
Leaving New York
As your bus takes you out of New York City you will find yourself passing through beautiful Pelham Bay Park. This historic park is three times the size of Central Park and boasts a 13-mile shoreline against the Long Island Sound. There is also a wildlife sanctuary which houses raccoons, herons, hawks and coyotes.
Connecticut
After leaving New York State you will head into Connecticut, one of the most beautiful states in the country. Passing by the city of Greenwich will be an experience in it of itself. Consistently ranked as one of the most expensive cities in America, this quiet town is home to some of the most luxurious homes you have ever seen. The 'Golden Triangle' in Greenwich has an average home price of $6.7 million while mean household income was $614,242!
Just northeast of Greenwich is the Cos Cob Inlet, a stunning body of water filled with yachts and private islands. If you studied art in university, the name John Henry Twatchman may sound familiar and it just so happens that his impressionist landscape paintings were often inspired by the Cos Cob. So as you drive through on Interstate 95 make sure to snap a pic!
Tunneling Through
In about an hour, you will find yourself passing through West Rock Ridge State Park. This recreational park is part of the Matacomet Ridge, a fault-block mountain bridge in southern New England. On this stretch, you will see imposing cliff faces, scenic vistas and rare/endangered plant species. What is even more interesting is that your bus will drive through the Heroes Tunnel, a 1,200-foot-long tunnel that was named to honor "heroes of all kinds" after the 9/11 attacks.
Almost There
When you finally approach the Massachusetts border, you will be met by the Nipmuck State Forest. This serene space is full of gorgeous trees and ravines that is sure to delight any traveler. As you slowly inch closer and closer towards Boston keep your eyes open for the Wellington Farm Historic District. This farm has some of America's oldest barns with some dating all the way back to the 19th century and is a National Historic Site.
Now that you are minutes away from downtown Boston, lean back and enjoy your arrival into 'Beantown.'
Things to Do in Boston
Boston may be a small city, with a population of just over 600,000, but it is the largest in New England. There are plenty of things to do and see in Boston. The Freedom Trail is one of the most popular touristic activity in Boston. 2.5-mile walk is not only healthy but educational and inspiring. If you don't have time to stop by all 16, be sure to visit the Paul Revere House, the Old North Church, the Old State House and the Faneuil Hall Marketplace.
Boston Tea Party Ships and Museum would be another historical adventure. Imagine yourself a colonial American, proud, independent and concerned. The origin of America's independence from the British Mandate movement was the Boston Tea Party and the cause was not in the event itself but in British reaction.
For the art lovers, Boston is a must-go place, at least for Harvard Art Museums: Fogg Museum, Busch-Reisinger Museum and Arthur M. Sackler Museum. Boston Public Library, The Mapparium, and The Museum of Science are just a few places to name that will leave you with a set of unique selfies and off your bucket-list.
Make sure you reserve enough time to stay and take a walk in one of the numerous Boston parks, have a coffee (or maybe tea) in a local café and only then head home tired and enlightened.